Knowledge @ Noon:  Healthy Eating, presented by Gina Basile from Sodexo
Where:  Sinclair Auditorium
When:  Wednesday, September 30th, 2015 - 12:00 noon to 1:00pm
We are kicking off the Knowledge @ Noon series with information regarding health and diet!  The topics such as Mindful Easting, Healthy Snacking, Healthy Alernatives for Cooking and Baking, and Fad dieting will be discussed with the staff from Sodexo.
Mindful Eating Handout
Smart Snacking Handout
Knowledge @ Noon:  Lehigh and the Community, presented by Dale Kochard, Assistant Vice President, Community & Regional Affairs
Where:  UC Room 308
When:  Wednesday, October 21st, 2015 - 12:00 noon to 1:00pm
Learn about Lehigh's engagement in the community and what Lehigh is doing to catalyze community development in South Bethlehem.
Handout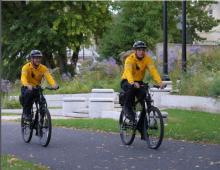 Knowledge @ Noon:  Pride Network, presented by Andrea Barker, Assistant Director of Student Affairs and Co-Chair of the Faculty and Staff Pride Network, along with Chelsea Fullerton, Director of the Pride Center.
Where:  UC Room 306
When:  Tuesday, November 10th, 2015 - 12:00 noon to 1:00pm
Gender, Sex, & Sexuality:  What's the Difference?
Handout
Knowledge @ Noon:  Utilizing Leadership, presented by Christine Gravelle, Assistant Dean & Director of Student Leadership Development & Civic Engagement in the Student Affairs Office. 
Where:  UC Room 308
When:  Wednesday, January 13, 2016 - 12:00 noon to 1:00pm
Leadership is a buzz word that has many different interpretations, meanings, and nuances.  Learn about what our Lehigh students are saying about leadership AND identify ways in whic you can engage in leadership development on our campus.
Knowledge @ Noon:  Bruce Bunnick, Director of Admissions and Krista Evans, Senior Associate Director of Admissions.
Where:  Alumni Memorial Building - Admissions Theater
When:  Wednesday, February 3, 2016 - 12:00 noon to 1:00pm
ERAC invites you to attend a Knowledge at Noon in the Admissions Theater of the Alumni Memorial Building.  Bruce and Krista will provide helpful tips on Admissions and Financial Aid, including what students should be doing at various points throughout their high school careers, key factors in the admissions process, and much more!  Please join us for this interactive session!  Beverages and Desserts will be provided, don't forget your lunch!  Invite your spouse to join you for this lunch time filled with helpful information.
Knowledge @ Noon:  Sustainability at Lehigh presented by, Katharine Targett, Office of Sustainability
Where:  UC Room 308
When:  Wednesday, April 20, 2016 - 12:00 Noon to 1:00pm
Katharine will be talking about what the Sustainable Office Program is, how offices can join the program, and what it takes to become a certified office (bronze, silver, gold, and platinum).  She will also discuss the different recycling streams on campus including single-stream recycling, batteries, plastic film, ink cartridges, e-waste, and writing utensils and how you can do your part.  Refreshments will be provided.